NEW DATE: Call of the Wild: Youth Outdoor Skills
"The Call of the Wild" is a hands-on youth program that explores the nature around us. Please wear outdoor shoes and clothing for the day's weather.
For ages 8 to 13.
Each child will receive an interactive workbook (locally published) to use during and take home after the program, "Backpack Explorer: On the Nature Trail," and a backpack to carry it. Using the library's back garden, and the Great Barrington Land Conservancy (GBLC) Housatonic Riverwalk and Riverfront Trails, we will get connected through nature with two hours of jam-packed outdoor skills, including walking, observing, sharing, and creating a survival shelter and more!
Meet your instructor: Frank Grindrod is a published author and outdoor skills instructor with "Earthwork Programs." His book will be available to purchase after the program.
This program is supported in part by a grant from the Great Barrington Cultural Council, a local agency which is supported by the Mass Cultural Council, a state agency.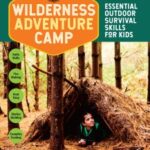 Registration is required.
Rain date will be Saturday 7/1/2023.
Register for this event
Registration is encouraged. It helps us to know how many to expect and keeps our staff prepared. We also invite you to join our email newsletter to be alerted to future events.