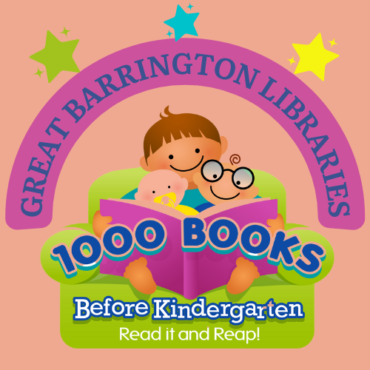 1,000 Books Before Kindergarten is a self-paced early literacy program and is open for enrollment year-round for library patrons with a CWMars library card.
Why:
Our 1,000 Books Before Kindergarten program is an easy way to give your child (age 5 and under) the best possible head start. We recognize the importance of early literacy skills and reading, and want to provide families with reading resources, and to promote the future success of children in school.
Goals:
To instill a love of reading in children that will help them become lifelong learners.
To reinforce parents' and caregivers' role as their child's first teacher.
To foster parent and child bonding through reading.
To encourage families to regularly use the educational resources available at the Great Barrington Libraries.
Enroll now! There are three easy ways to enroll. At enrollment, you will receive an enrollment bag.
Online at 1,000 Books Before Kindergarten or install the Beanstack app on your mobile device.
Phone the Youth Services Desk at 413-528-2403×3.
Visit the Youth Services Desk at Mason Library.
If enrolling online or by phone, stop by Mason Library's Youth Services desk to receive your enrollment bag.
Along the way receive small prizes and celebrate your progress! When you reach 500 and 1000 books, you'll receive a free book*! Participants are acknowledged on our 1000 Books Before Kindergarten bulletin board at every milestone.
Keep track of your reading using:
Beanstack. It's so easy to log your books in the app. You'll see the quantity of earned badges build up, your reading streaks, and more!
Paper logs. If you prefer paper, download the paper logs. Color in a fun picture for each book you read together. Email a picture of your completed log sheet to masonramsdell@gmail.com or bring it to the kid's room desk.
*Prizes thanks to State Aid to Public Libraries administered by MBLC